USA Garage Doors Repair Service - Garage Door Installation Simpsonville, KY -

502-354-2549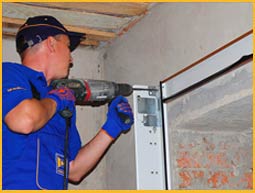 Garage doors serve two important purposes, first, they keep your vehicles, property, and other valuables safe from any kind of security threat or the effects of weather and second, they are located in a prominent area of your house and have to match up to the beauty of the rest of the premises. Due to their two-fold significance, the decision to choose a professional and reliable garage door company becomes that much more crucial. USA Garage Doors Repair Service has been installing modern, sturdy, and elegant garage doors at homes and offices for over 10 years and strives to meet the expectations of our customers in Simpsonville, KY each time they call us.
We offer our customers a wide range of doors to choose from, all of them made with the finest materials hand-picked by our experts. Every USA Garage Doors Repair Service door is built to serve your purposes for a long period of time and demand minimal maintenance. Whether you need a fancy carriage house door or a simple overhead garage door, call USA Garage Doors Repair Service and we will deliver exactly what you are looking for.
The installation process:
We have a 4-stage installation process that begins with our technicians understanding your requirements and ends with us installing your dream garage door at your premises. Here's what we mean in brief:
Stage 1:We meet and discuss your needs, understand your specific requirements, and discuss the budget.
Stage 2:Our team visits your house, inspects the area where the door has to be installed and notes down the materials that will be required.
Stage 3:After getting an approval on the final cost estimate, our craftsmen begin working on your brand-new door.
Stage 4:Our technicians install the door at your premises and conduct quality and safety checks to ensure if your door is fit for normal operation.